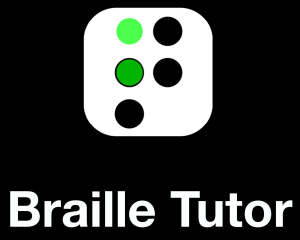 Learn and practice contracted braille (Unified English Braille) with Braille Tutor!

Braille Tutor provides an interactive learning experience for a sighted or blind braille learner. The App works on iPad® using onscreen keys or home keys on a Bluetooth® keyboard. It is self-voiced, but also works with iOS accessibility.

The app uses sounds and text-to-speech to support vision-impaired learners. Using a Bluetooth keyboard also gives the user a feel of the keys.

"Great App!
Very good for consolidating braille skills learned, particularly at home / places where a learner might not have access to a Brailler."
Background
I was looking for an iPad app to teach braille to my blind 6-year old. After some searching and failing to find a decent accessible app, I decided that I should write one…
With the help of the Telematics trust, the Braille Tutor app is now in the final stages of testing. Many thanks to the volunteers who help test and provided invaluable suggestions and feedback.
The Braille Tutor App is now available for FREE download with lessons for Grade-1 braille. In-App purchase available for the remaining Grade-2 lessons. Happy brailling!
What is braille?
Braille is a tactile system of reading and writing used by the blind. This system was created by Frenchman Louis Braille (1809-1852). Each braille character (braille cell) consists of 6 raised dots, arranged in 2 columns of 3 dots. Different braille characters are formed by a different combination of raised dots. There are 63 possible characters and space (which has no dots).
The usual convention numbers the 3 dots in the left column 1, 2 and 3 from the top down. The 3 dots in the right column area numbered 4, 5 and 6 from the top down. Braille is embossed on heavier paper, either by stylus & slate, a braille typewriter or embosser.
Why braille?
My wife and I were keen to introduce braille to our blind 6-year-old, even though he had some remaining vision. We know that trying to read strains his eyes, so he would not be able to read for long periods of time. We also know that as to access text from books and internet for his education and independence, it would be faster and more efficient with braille than large print.
Unified English Braille (UEB)
The UEB code is the English braille code standard developed by the International Council on English Braille, simplifying the system of Braille code across the English-speaking world, by replacing a number of different coding systems (except Music). The UEB code has been adopted for use by Australia, Canada, New Zealand, Nigeria, South Africa, UK and USA. An UEB Australian training manual is available for free download from the Australian Braille Authority. There are certain rules for when specific contractions can/should be used, e.g. stand-alone rule for wordsigns, etc. These rules can be found in The Rules of UEB or the UEB Australian training manual.
About the lessons
The app provides an introduction to learning and typing braille. Each lesson contains a small number of key concepts. The lessons are designed so that subsequent lessons also reinforce previously introduced concepts. For beginners, it is recommended that they start with Lesson 1 and build up their skills gradually. Repeating a lesson can help reinforce any new concepts contained within. The lessons are grouped into levels based on key concepts, starting with the grade-1 alphabets to grade-2 groupsigns and wordsigns. Sentences are used to introduce punctuations and allow practice with context.
Using Braille Tutor
Braille Tutor is self-voicing and has been designed for blind users and those with low-vision. There are in-app settings that allows the users to change the interface to suit their personal preference, along with iOS accessibility features, http://www.apple.com/au/accessibility/ios/
For personal comfort, it is recommended that the user sits in an upright position, with their feet on the ground and the iPad placed on an even surface at elbow height, perhaps tilted slightly towards the user. If using a Bluetooth keyboard, it might be best to place the iPad on a stand and the keyboard on the even surface.
Bluetooth keyboards
Using a Bluetooth keyboard allows the user to receive addition kinesthetic feedback from pressing the keys. To connect your Bluetooth keyboard, please follow manufacturer's instructions and refer to http://support.apple.com/kb/ht4111
VoiceOver
VoiceOver is a gesture-base screen-reader on the iPad (and all iOS devices). Braille Tutor supports the use of VoiceOver for navigation within the app. For more information, please refer to http://www.apple.com/au/accessibility/ios/voiceover/
Refreshable braille display
Many refreshable braille displays are supported by the iPad (and most iOS devices). For more information, please refer to http://www.apple.com/au/accessibility/ios/braille-display.html.
New features for the next release
Braille entry using a refreshable braille display (Braille output is already available to Bluetooth-connected refreshable braille displays)
Questions or Comments
We value your feedback and would love to hear from you. Everybody learns and uses technology differently and we are keen to make the app better for everyone. Please feel free to leave your comments below. You can also email us through our support page.